Staycation
Introducing, Staycation by Stretch*d. A limited time pop-up featuring a range of contactless, feel-good services. It's a little slice of warmth, relaxation, and good vibes in the heart of NYC.⁠ All Staycation guests enjoy complimentary beverages from Vita Coco and guided meditation from Breethe. Experience a getaway—no planes or quarantine required!
A DAY AT THE BEACH | 20-MINS
Get Lit + Get Warm*d: Relax on the warmth of the infrared HigherDose mat, allow the PEMF frequency to induce a grounding sensation and let the gentle, warm LED lights work their FDA-cleared anti-wrinkle magic.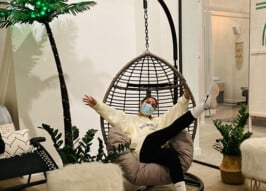 HEAD TO TOE TREATMENT | 20-MIN
Get Puls*d + Get Lit: A facial plus leg massage at the same time?! Yes please! Enjoy the benefits of compression therapy and lymphatic drainage for your lower extremities (Normatec Boots) plus an Anti*aging facial under the warming lights of the LightStim.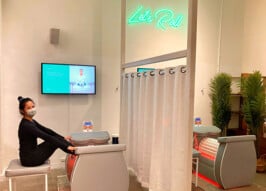 Offers both a lymphatic massage and body shaping (slimming). Using infrared heated rollers moving at an optimal speed, the heat and pressure offer an acupressure massage that relieves muscle tension and stimulates lymphatic drainage.