Get Warm*d on the HigherDOSE PEMF mat!
For a limited time, get a complimentary Get Warm*d enhancement with your stretch.
The HigherDOSE Infrared Mat lets you enjoy warming infrared heat with PEMF (Pulsed Electromagnetic Field) technology. Get a DOSE of good vibrations—experience a deeper sense of calm, fight inflammation, and let the infrared heat gently warm up your muscles to achieve a deeper stretch (no sweat involved).
Our Get Warm*d enhancement gives you all of this, while we stretch you out. Did we mention it's warm?! It's so warm!
To redeem your complimentary Get Warm*d, simply add 'Get Warm*d' from the 'Choose enhancement' screen when you book online.
Availability of the Infrared Mat is limited and available on a 'first come, first served' basis; we will do our best to accommodate all requests. Complimentary Get Warmd offer valid through 2/7/21; all sessions must be completed by this date.
Enjoy the benefits of infrared heat without needing an intense sweat session.
Great for warming up the muscles to get a deeper stretch.
Far infrared heat gently warms the body from the inside out—the mat won't feel super hot to the touch, as your body moves, it will start to warm up.
PEMF & Negative Ion Therapy
PEMF has been scientifically proven to recharge your cells and activate your parasympathetic nervous system for a deep full-body reset.

Each mat contains 20 lbs of amethyst stone—a superconductive gemstone, generating its own small magnetic field which is beneficial to us similar to the benefits of PEMF therapy.
Amethyst crystals help naturally produce negative ions (negative ions are believed to help repair damaged cells and improve mood).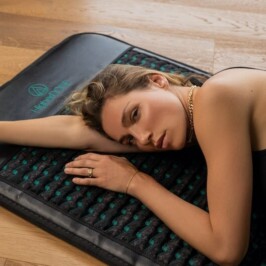 Warming infrared heat with PEMF, anywhere you want it. Experience a deeper sense of calm and fight inflammation while you stretch, do yoga, read, nap and so much more!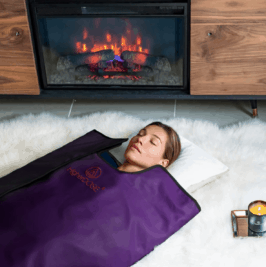 INFRARED SAUNA BLANKET V3 | $499
Literally the HOTTEST wellness product of the season. 🔥  Increase your body's thermal energy and blood flow, and sweat like you're working out (without working out).