Make rapid, measurable improvements in flexibility
Our Loos*n Up Program provides measurable results over just six weeks. Start with an initial assessment where we analyze your range of motion. Come twice weekly for in-person stretch sessions. We customize the program to your needs. After six weeks, we measure your progress. Our goal is for you to feel long-lasting improvements in flexibility and comfort.
Aiming to improve overall flexibility and movement
Training for a race or athletic event
With recurring pain and tightness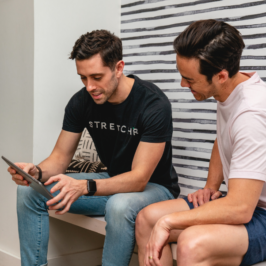 In 90 minutes, we assess your goals, measure your baseline flexibility through a 23-point assessment, stretch you, and set your plan for the following 6-weeks.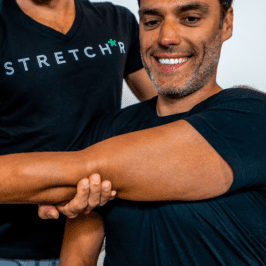 ONE-ON-ONE ASSISTED STRETCH*S
Follow a program of twice weekly 25-minute, 55-minute or 70-minute stretch*s.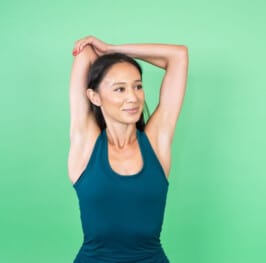 Self Stretch*s and recovery techniques to do at home or during the work day.
After six weeks, finish up with another 90-minute session to take comparative measurements, go over your results, develop an ongoing maintenance plan – and pat yourself on the back (you can reach it now!)
After 6 weeks you can expect to feel and move better than you did before.

Benefits can include:

Feeling less tension or pain

Improved performance in your activities

Improved recovery after your activities

Feeling less stressed than usual

The speed at which you improve will be dependent on a few variables such as baseline level of flexibility, injury history, age, activity level, etc. However, after 3 weeks you can expect to feel an improvement in your mobility and less pain/discomfort in your daily life.
We conduct a midway assessment to measure your progress. On your 6th visit, we will ask you to do approximately 3 movements. We will compare your mobility to your first visit so you'll get real-time feedback on your progress. This will add 10 minutes to the beginning of your session.
6 weeks is a long enough time for us to establish lasting and noticeable change in the muscles. After 6 weeks, maintaining your new found flexibility becomes easier as well.

We recommend committing to this program when you are able to come for 6 weeks without interruption in order to see optimal progression and results.
We can allow for a small grace period (up to a 7 day extension), but any longer and your success / results will be compromised. You can also "make up" for lost time by coming 3 times in one week, etc.
We measure a series of 23 joint movements throughout the body using an application that allows us to read the degree to which you're able to do each movement. We also use a digital measurement device to take real-time measurements. With a side by side comparison at the conclusion of the program, you'll be able to see exactly how much you improved in each area of the body. 
You should absolutely feel and see measurable change. While the amount of change varies by individual (factors include your base level of flexibility, your lifestyle and activity levels, etc.), everyone should see some degree of improvement. When it comes to improving flexibility, consistency is key. This program will ensure consistent and trackable progress.
For the most part, yes. Our Stretch*rs are trained to work with and around all kinds of injuries. If you have recently injured yourself and are experiencing a high level of sharp pain, we recommend you consult a physician before beginning our program.

Yes. It's never too late to start a flexibility routine and you are not a lost cause. Our method is designed in a way that allows us to work with any level of flexibility.

Physical therapy typically focuses on strengthening or rebuilding an area after injury. If you've gone to PT for an injury or some sort of physical limitation, you would likely be doing a combination of strengthening, stretching, icing, etc. During the 6-week Loos*n Up program, all of your sessions will be spent primarily on hands-on assisted stretching. Your Stretch*r will bring you through a very comprehensive and specialized stretching protocol catered around your needs.